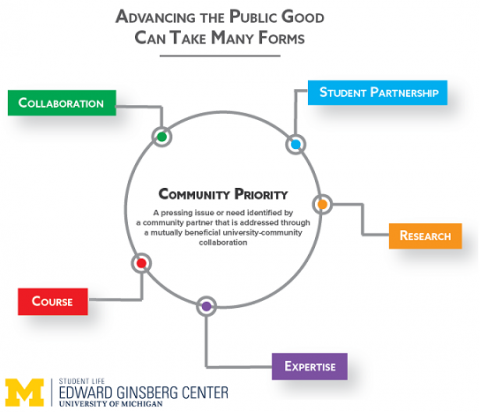 The Ginsberg Center consults regularly with U-M faculty, instructors, staff, and graduate students who are designing new, or refining existing, community-engaged courses or research. Our consultations offer best practices for community engagement, informed not only by the growing field of community-engaged scholarship but also by suggestions from numerous conversations with our community partners.
In response to the Covid-19 Crisis, we are offering virtual consultations, workshops, and Community of Practice gatherings. In addition, we have compiled ideas and resources to adapt your community-engaged course for virtual instruction.    
To schedule a consultation or workshop, complete our Support Request Form or contact us at ginsberginfo@umich.edu. Join our Academic Partner mailing list to stay informed about upcoming events and opportunities!  
The Ginsberg Center uses the term community-engaged scholarship to describe any scholarly endeavor -- courses, research, service, or other learning experiences -- that puts community-defined needs at its center. Community-engaged scholarship describes a hands-on experience within a community that has several key components:
Addresses societal needs not currently being fully met by other sectors
Produces reciprocal benefits for community partners, campus partners, and students
Intentionally integrates community-based needs and academic learning objectives
Prepares students for engagement and promotes ongoing reflection and/or critical analysis
Interrogates structures of inequality and questions the distribution of power
Supports the development of a lifelong commitment to civic engagement
Community partners are active participants in the process of identifying needs and developing appropriate interventions and projects to address these needs. Faculty, staff, and, students work in collaboration with community partners to consider the impact on communities before, during, and after community engagement.
Community-engaged scholarship is a high impact practice. Evidence shows that participation in these activities has the greatest positive impact on students' academic success, graduation rates, personal and interpersonal development, and other measures of learning (NSSE 2008).
High impact practices induce student behaviors that lead to meaningful learning outcomes (Kuh 2008):
Investing time and effort
Interacting with faculty and peers about substantive matters
Experiencing diversity
Responding to more frequent feedback
Reflecting and integrating learning
Discovering relevance of learning through real-world applications
Community-engaged scholarship engages faculty, staff, students, and community partners in broader civic and social engagement efforts, promoting a lifelong commitment to civic engagement.
Further Reading: Fitzgerald, H. E., Bruns, K., Sonka, S. T., & Furco, A. (2012). The Centrality of Engagement in Higher Education. Journal of Higher Education Outreach and Engagement, 16(3), 7–27.
We have gathered examples from across the University that show how your peers are supporting UM's mission of serving the public good while advancing their scholarship and supporting student learning. You can browse a range of collborations, courses, research projects, student partnerships, and other projects designed to share expertise.
The FAQs below highlight key ideas and additional resources for your community-engaged efforts.
How can I...
[GETTING STARTED]
[ONGOING SUPPORT AND RESOURCES]