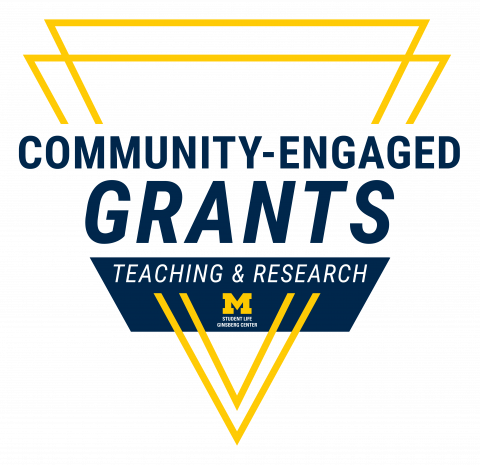 Funding for Collective Impact
The Edward Ginsberg Center offers funding opportunities for community-engaged teaching and research. In partnership with multiple units on campus, we offer a collaborative funding model, encouraging -- and practicing -- collective action to increase our impact in service to the public good.  
Focused on Community Priorities 
Our funding priorities encourage grantees to adopt an "outside-in" approach to community engagement, which is driven by community-identified priorities that are matched to campus partners and resources. This model is aligned with research that shows that establishing equitable partnership practices leads to greater partner satisfaction and positive community outcomes (Levkoe & Kepkiewicz, 2020; Wegemer et al, 2020; Holland et al, 2003).
Funding Opportunities for Faculty & Academic Partners: 
Ginsberg Center Community-Driven Engagement Grants support the community-engaged work of all full-time faculty (tenured and tenure-track, research, clinical faculty, and lecturers) and postdoctoral fellows on the Ann Arbor Campus. 
LSA Course Development Grants, administered by the Ginsberg Center, support LSA instructors developing or supporting community-engaged courses.
We offer two levels of funding: up to $500 and up to $1500
Click here to learn more
Ginsberg Center Community Engagement Grants for Interprofessional Education are offered in partnership with the Center for Interprofessional Education, to support the community-engaged work of tenured and tenure track, research, and clinical faculty on any of the 3 U-M campuses. Grants will support interprofessional teams, representing at least two different health science schools, that include at least one past or current Interprofessional Leadership Fellow.
Two grants of up to $5000 are awarded each year
We are currently reviewing our IPE Grants process, please check back for updated information.